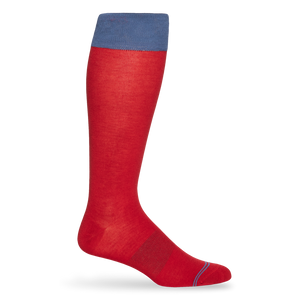 Oskar | Boardroom
Sale price Price $27.00 Regular price
Named after influential human rights activists, this sock style pay homage to those who devoted their life to fighting for a cause. Inspired by German industrialist, Oskar Schindler who saved thousands during the Holocaust, this clean design is for the risk-takers who are bold enough to stand out among the crowd.

The Look:
-Crimson knit sock with striped detail at toe
-Contrast blue cuff
-Length: Slightly above mid-calf for no-slip guarantee

The Feel
-Breathable Bamboo blend provides maximum ventilation
-Incredibly soft fabric that feels like cashmere
-Enhanced arch support for a sleeker fit
-Durable elasticity that retains shape over time
- OUR SOCKS are designed to stay in place all day/night.