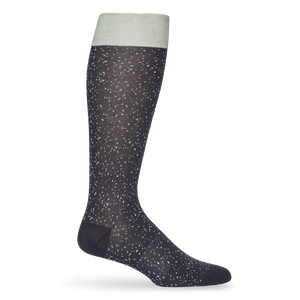 Kepler | Boardroom
Sale price Price $27.00 Regular price
Named after famous astrophysicists and mathematicians who looked toward the stars, this unique style has a speckled pattern, much like the night sky.  A key influencer in the scientific revolution, Johannes Kepler is best known for his laws of planetary motion. This one is for the game-changers who are looking to the future.

The Look:
-Dim Gray speckled print sock
-Solid toe and heel; contrast cuff
-Length: Slightly above mid-calf for no-slip guarantee

The Feel
-Breathable Bamboo blend provides maximum ventilation
-Incredibly soft fabric that feels like cashmere
-Enhanced arch support for a sleeker fit
-Durable elasticity that retains shape over time
- OUR SOCKS are designed to stay in place all day/night.