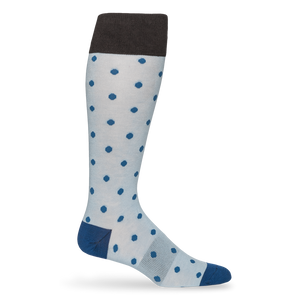 Ford | Boardroom
Sale price Price $27.00 Regular price
Henry Ford revolutionized factory production and helped define American capitalism with his assembly line methods that took the world by storm. What will you create when you wear this classic blue style to the office? The options of style pairings are endless.

The Look:
-Pale Blue polka-dot printed sock
-Contrast blue toe and heel; contrast brown cuff
-Length: Slightly above mid-calf for no-slip guarantee

The Feel
-Breathable Bamboo blend provides maximum ventilation
-Incredibly soft fabric that feels like cashmere
-Enhanced arch support for a sleeker fit
-Durable elasticity that retains shape over time
- OUR SOCKS are designed to stay in place all day/night.