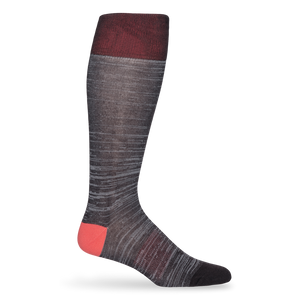 Brin | Boardroom
Sale price Price $27.00 Regular price
Move over black socks, there's a new sheriff in town. The new black is Brin. The time has come to upgrade the quintessential black sock, once and for all. Inspired by Google's Sergio Brin, this sock is built to be the workhouse in your wardrobe. The marled black and steel gray fabric make it the perfect go-to sock for any occasion.

The Look
-Black/Steel Gray marled knit sock
-Contrast red heel; solid black toe and cuff
-Length: Slightly above mid-calf for no-slip guarantee

The Feel
-Breathable Bamboo blend provides maximum ventilation
-Incredibly soft fabric that feels like cashmere
-Enhanced arch support for a sleeker fit
-Durable elasticity that retains shape over time
- OUR SOCKS are designed to stay in place all day/night.