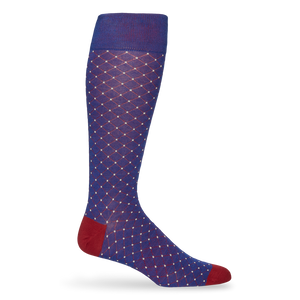 Barnum | Boardroom
Sale price Price $27.00 Regular price
"When it comes to stepping up and leading the way, the Barnum is second to none. Inspired by P.T. Barnum, this bold sock gives you permission to become the ring leader and take on the day with confidence and charisma. Designed for those that see opportunities in everything, the Barnum is sock built for star performances under the big top.

The Look
-Royal Blue diamond and dot printed sock
-Contrast red toe and heel; solid blue cuff
-Length: Slightly above mid-calf for no-slip guarantee

The Feel
-Breathable Bamboo blend provides maximum ventilation
-Incredibly soft fabric that feels like cashmere
-Enhanced arch support for a sleeker fit
-Durable elasticity that retains shape over time
- OUR SOCKS are designed to stay in place all day/night. "